While summer is just getting a start where I live, before we know it will be time to start thinking about Back to School...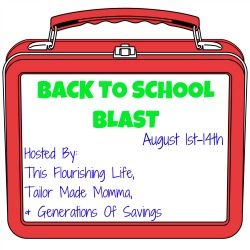 For Bloggers there is still time to sign up, which will close July 27th. This is a free event and is taking place from August 1st -14th.
A minimum of $25 for the prize/s is required. E
ach prize must also be Back To School related (geared towards any age).
With everything that must be purchased for back to school there are plenty of great options:
clothes, shoes, hats, bows
books, learning toys and games
computers, computer accessories
sports equipment
dorm room stuff
Go
here
to find out more and sign up.
Now, for my readers be sure to come back between August 1st-14th to not only enter for my Giveaway but all others too!