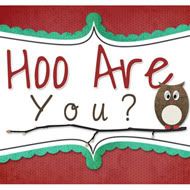 1. Do you like the season, Fall?
Yes, sure beats winter.
2. What is your favorite fall smell?
Apples and pumpkin.

3, What is your favorite activity to do in the fall?
Go for walks, baking.
4. Do you dress in fall colors during the season?
Somewhat. I do have lots of red/browns in my fall/winter clothing.

5. Name 4 qualities about yourself that start with each letter in the word FALL!
F-fun
A-active
L-loud
L-lucky
Click button above to head over to Night Owl crafting and answer these questions yourself.